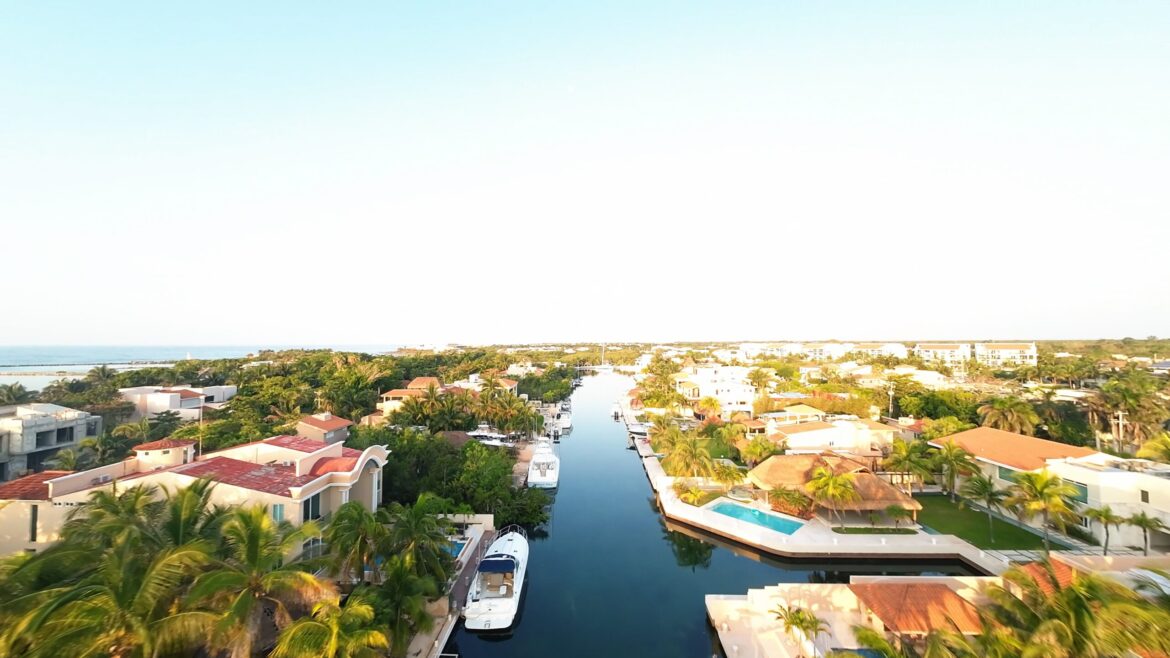 Luxury Oceanfront Homes for Sale in Puerto Aventuras
"Experience the breathtaking beauty of Puerto Aventuras from above in this mesmerizing aerial flight video. Join us as we soar over the stunning coastline, capturing the essence of this tropical paradise and showcasing some of the most exquisite beachfront properties in the area. From luxurious villas with private infinity pools to elegant condos nestled along the pristine shoreline, immerse yourself in the awe-inspiring views of these remarkable properties. Marvel at the harmonious blend of architectural brilliance and natural surroundings as we glide over the turquoise waters and powdery white sands. Discover the allure of waterfront living in Puerto Aventuras as we showcase the exclusive estates that epitomize luxury and tranquility. Experience the sheer elegance and sophistication that define these beachfront residences, offering a privileged lifestyle amidst the captivating beauty of the Caribbean Sea. Let the captivating aerial footage transport you to a world of opulence and serenity. Join us on this journey above Puerto Aventuras as we unveil the true essence of coastal living and the undeniable allure of these remarkable beachfront properties. Subscribe to our channel to stay connected and explore the enchanting world of real estate in Puerto Aventuras. Your dream coastal retreat awaits, and we're here to guide you every step of the way."
Escape to paradise with a selection of exquisite oceanfront properties in the beautiful coastal town of Puerto Aventuras. Nestled along the pristine shores of the Riviera Maya in Mexico, these grand homes offer the epitome of luxury living combined with breathtaking views of the shimmering Caribbean Sea. Whether you're seeking a tranquil retreat or a lavish vacation getaway, Puerto Aventuras presents an incredible opportunity to own a piece of coastal paradise.
Awe-Inspiring Architecture: Step into a world of architectural magnificence as these homes showcase a seamless fusion of contemporary design and tropical elegance. Expansive floor-to-ceiling windows invite the azure hues of the ocean to illuminate every corner of these grand residences, creating a harmonious connection with the natural surroundings. From sprawling beachfront estates to modern villas perched on cliffs, each property has been thoughtfully designed to maximize views and provide the utmost in comfort and style.
Unparalleled Amenities: Prepare to indulge in a lifestyle of luxury with an array of amenities that cater to your every need. Private infinity pools, rooftop terraces, and manicured gardens offer the perfect setting for relaxation and entertainment. Many of these oceanfront properties also provide direct access to secluded beaches, allowing you to immerse yourself in the soothing sounds of the waves and bask in the sun-kissed tranquility.
Unmatched Coastal Living: Beyond the comforts of these remarkable homes, Puerto Aventuras offers a vibrant community with an array of amenities. Enjoy world-class marinas, championship golf courses, gourmet restaurants, and boutique shops, all within a short distance from your doorstep. The town's central location also provides easy access to explore nearby attractions such as ancient Mayan ruins, cenotes, and the vibrant city of Playa del Carmen.
Conclusion: If you've ever dreamt of waking up to the gentle lapping of waves against the shore, owning a luxury oceanfront home in Puerto Aventuras is your chance to turn that dream into a reality. Immerse yourself in the unparalleled beauty of the Riviera Maya, where refined elegance meets the serenity of the sea. Explore the available properties and embark on a remarkable journey to own a slice of paradise. Experience the ultimate coastal lifestyle in Puerto Aventuras, where luxury and natural splendor merge to create an unparalleled living experience by the sea.
For more information about properties for sale in Puerto Aventuras Tulum or Palya del Carmen contact us. customer service in english russian and spanish www.propertiesbaymx.com veronika@propertiesbaymx.com wtspp:+52 9841157109 Q,Roo Mexico